Organic & Non-GMO
HERBED WHITE BEAN SPREAD & SUMMER VEGGIE SANDWICH
This is the vegetarian summer sandwich you've 'bean' dreaming about. Combine the creaminess of a bean spread with the crunch of fresh veggies for a lunch you'll crave every day of the week.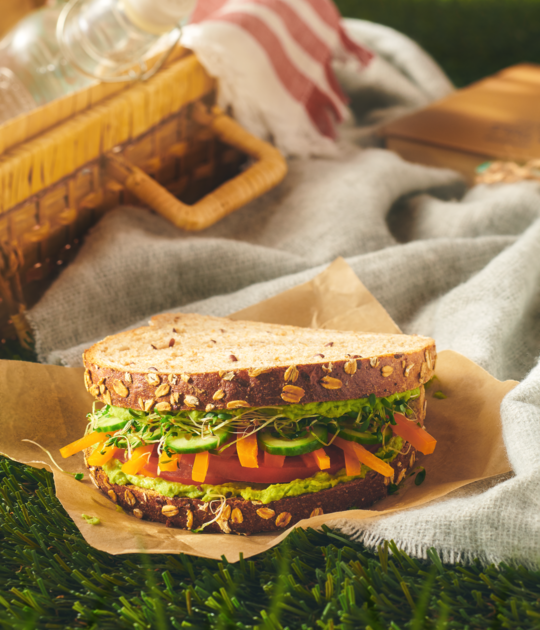 Ingredients
8 slices Oroweat® Organic 100% Wheat Bread
1 can (approx. 400ml) cooked cannellini beans, rinsed and drained
1/4 cup fresh basil leaves, packed
Small bunch of fresh parsley leaves
Small bunch of fresh chives
1 clove of garlic
1 1/2 tablespoons fresh lemon juice
3 tablespoons olive oil
4 leaves romaine lettuce
Fresh tomato, sliced
Orange bell pepper, thinly sliced
Fresh cucumber, thinly sliced
Alfalfa sprouts
Salt & pepper to taste
Preparation
In a food processor combine the cannellini beans, fresh herbs, garlic, lemon juice, olive oil and salt & pepper. Process until almost smooth, allowing for a bit of texture to remain in the spread.
To assemble sandwich, spread approximately 2 tablespoon of the white bean spread on one slice of the bread.
Top with your choice of vegetables and sprouts, and season with salt & pepper if you'd like.
Spread an additional 2 tablespoons of the spread on the other slice of bread and top the sandwich. Enjoy!